Cafeteria Tables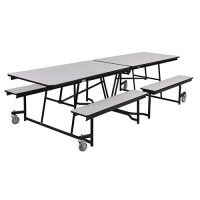 View Item
Fixed Bench Rectangle Mobile Cafeteria Table
From:
$1,059.99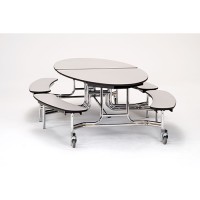 View Item
Fixed Bench Elliptical Mobile Cafeteria Table
From:
$1,535.99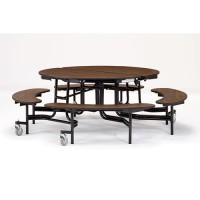 View Item
Fixed Bench Round Mobile Cafeteria Table
From:
$1,486.99
Cafeteria Tables
Our
Cafeteria Tables
offer the durability, high seating capacity and flexible seating options to keep students and employees comfortable and your dining room clean and orderly.School dances that take place in the cafeteria or plays on a stage in a cafeteria need floor space to be clear and open! Mobile Cafeteria Tables that
Fold
make it easy to clear the floor for any school or voting event that your school needs to make room for. These cafeteria tables even go great in hospitals or business office break rooms!
Bench Seat
Cafeteria Tables and
Attached Stool
Cafeteria Tables make your seating options expand and take up very little space! When the seating is attached to the table, you'll never have to worry about messy chair set ups and people tripping over loose chairs!