Floor to Ceiling & Extra Large Whiteboards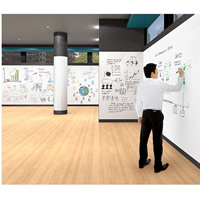 Porcelain over aluminized steel for flexibility
Unlike paints and films, Sharewall® is engineered from a high quality magnetic porcelain coated aluminumized steel for the ul...
Matte projection grey and matte projection white for clarity and minimized glare are also available (projection surfaces are wet e...
The alloy surface is durable, and will erase cleanly, even after heavy use
Trim options available. Install clips to surface and attach trim for a clean and finished appearance
Call for Pricing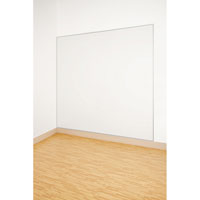 Porcelain Steel Magnetic writing surface
Lifetime warranty on writing surface
Trim and Spline joints included
1/2" Core with Aluminum backing sheet
Aluminum frame with 3/4" face
Call for Pricing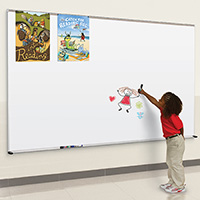 Meet ADA guidelines with this ergonomic whiteboard
Choose a magnetic, porcelain steel surface or the Projection Plus surface to suit your various presentation needs
Cork Strip/Map Rail and Dura-Safe marker tray end caps add versatility and safety to this board
Call for Pricing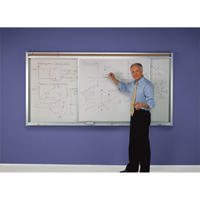 Two sliding boards and 1 large back panel board provide ample amounts of space for non-stop lectures
Make a presentation more attractive with magnets to hold up added material
Make your displays pin-up worthy by sticking them onto the cork strip maprail to enhance a lecture
Call for Pricing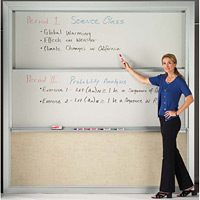 2 sliding whiteboard glide to reveal a larger, fixed back panel for 3x the writing surface!
The 50-year warranty allows your lessons to move along with reassurance of the board's porcelain-on-steel surface quality.
Low-gloss boards and chalkboard surfaces are also available, maximizing versatility.
Call for Pricing
Floor to Ceiling & Extra Large Whiteboards
Need an entire wall covered? Here is where you'll find a solution for that need. Whether it be a physical board or a paint, these products will answer any application questions you may have. Go Big and impress your clients with a floor to ceiling board.