Laser Curtains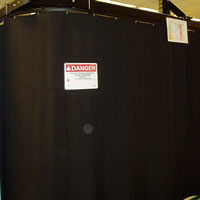 Rated at 250W/cm2 per 100 seconds
Certified in accordance with ANSI Z136.1-2007, Z136.7-2008, EN 12254: 2010 and NFPA-701: 2010 TM2
Intended to protect against scattered and diffuse radiation from 190nm - 11,000nm
Call for Pricing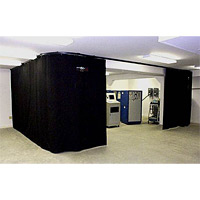 Order now in TECH BLUE or MATTE BLACK!
Heavy-duty coated fabric is ideal for blocking diffuse and low-power laser radiation.
Matte finish absorbs and diffuses laser beams.
Shipped with all hardware and easy-to-follow setup instructions.
Stock and custom sizes available.
Call for Pricing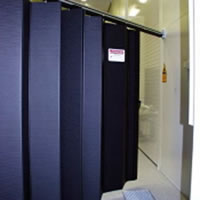 Laser-rated in excess of 1200W/cm2 for 3 minutes
ANSI Z136.1-2007 compliant
Custom dimensions
Available in Matte Black or custom colors
Call for Pricing
Laser Curtains
Our experts will help you design the layout and advise you on proper
Laser Curtain
or
Laser Shade
installation. Whether your project calls for complete blackout, or just laser beam control, our products will minimize unintended damage and keep everyone safe.It's important to determine before ordering laser curtains what the use of the space will be and the power of the laser being used. Our laser curtains contain beams from lasers up to, and including, Class 4. These moderate and high-power lasers are potentially very dangerous and can burn the skin and retina of your eye if proper precautions are not met.
Protective Eyewear
in the form of goggles or spectacles should be worn around lasers. Watches and other jewelry should not be allowed in the work space, and proper curtain panels must be installed to block harmful beams and provide for a safe working environment. If the wrong material is used, the laser beams have the potential of burning through the curtain material and injuring others in peripheral work areas.By working with US Markerboard, you can be confident in knowing that we will ask you the type and power of the lasers being used, and provide suitable and safe layout options.At US Markerboard, we have many years of expertise in laser safety. We will answer any questions you have, and work with you to create a working and safe laser research environment.