Competitor Series Big Top Sandwich Preparation Tables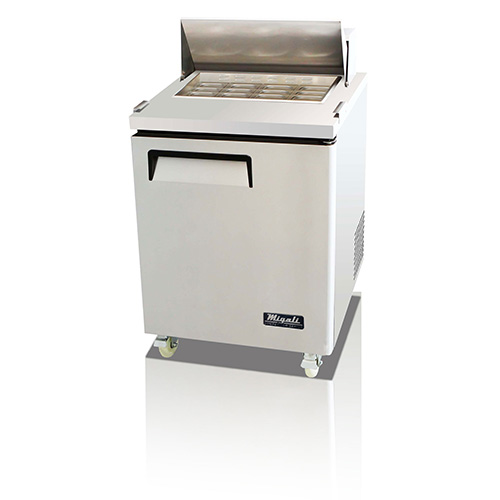 $1,329.99
ea.
List Price:

$2,978.00
You Save:

$1648.01 (55%)
Ships in 7 days or less!
Estimated Ship Date: 6/2
You've Selected:
C-SP27-12BT
Competitor Series Big Top Sandwich Preparation Table - 1 Door - Holds (12) 1/6 Size Pans (Pans not included, Pan Bars are included) - 9-1/4"D Cutting Board Included - 27.5"L x 34"D x 46.6"H
Migali Competitor Series Sandwich Preparation tables feature beautiful ergonomic construction and rounded corners. All stainless steel exterior and interior and recessed door handles. 9-1/4" deep cutting board included. Buy with confidence with Migali's Protection Plan of 1 year parts and labor, 5 year compressor warranty.
* Note: Pans are NOT Included!
* Note: Pans bars ARE Included!
Rounded corners
Digital temperature controller & read-out
All stainless steel exterior and interior
Forced air refrigeration
19-1/4" deep cutting board included
Recessed door handles
Pre-installed casters and shelving
90 degree hold open door feature
Protection Plan: 1 Year Parts & Labor Warranty, 5 Years Compressor Warranty
Dimensions W x D x H (Interior):

C-SP27-12BT: 27.5 x 34 x 46.6 (23.9 x 23.6 x 26.4)
C-SP48-18BT: 48.2 x 34 x 46.6 (44.7 x 23.6 x 26.4)
C-SP60-24BT: 60.2 x 34 x 46.6 (56.7 x 23.6 x 26.4)
C-SP72-30BT: 72.7 x 34 x 46.6 (56.7 x 23.6 x 26.4)

Shelves

C-SP27-12BT: 1
C-SP48-18BT: 2
C-SP60-24BT: 2
C-SP72-30BT: 3

Weight (lbs.)

C-SP27-12BT: 209
C-SP48-18BT: 253
C-SP60-24BT: 338
C-SP72-30BT: 387

Energy Consumption (kwh/24hr):

C-SP27-12BT: 2.6
C-SP48-18BT: 3.6
C-SP60-24BT: 3.6
C-SP72-30BT: 4.1

Operating Temperature Range:

C-SP27-12BT: +33°F - +41°F
C-SP48-18BT: +33°F - +41°F
C-SP60-24BT: +33°F - +41°F
C-SP72-30BT: +33°F - +41°F

Amps:

C-SP27-12BT: 3.3
C-SP48-18BT: 5.1
C-SP60-24BT: 5.1
C-SP72-30BT: 5.7

Plug Type:

C-SP27-12BT: Nema 5-15P
C-SP48-18BT: Nema 5-15P
C-SP60-24BT: Nema 5-15P
C-SP72-30BT: Nema 5-15P

Voltage:

C-SP27-12BT: 115V/60hz
C-SP48-18BT: 115V/60hz
C-SP60-24BT: 115V/60hz
C-SP72-30BT: 115V/60hz
You May Also Like
For your reference:
This item is also sometimes listed under the following manufacturer numbers
C-SP27-12BT, C-SP48-18BT, C-SP60-24BT, C-SP72-30BT