Folding Rectangular Shower Seat with Swing Down Legs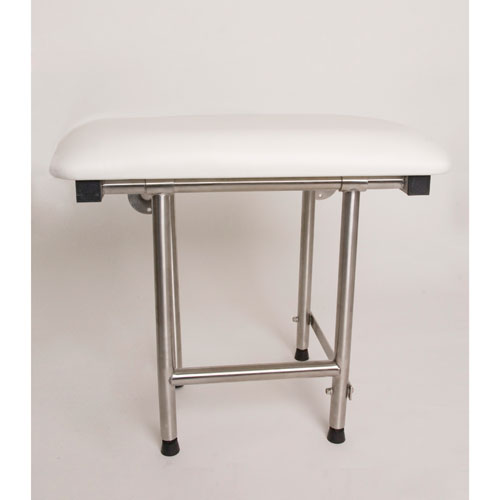 This seat meets ADA Barrier-free accessibility requirements. Padded Seats offer superior comfort for institutional and residential applications. The seat shall be mounted 17" to 19" (430mm to 485mm) from the bathroom floor and shall extend the full depth of the shower stall. Seat shall be on the wall opposite the controls. Every seat installation requires a reinforced wall backing. It is the responsibility of the designers, builders and installers to evaluate the application and the wall to specify the appropriate fasteners. Consult local building codes and current ADA requirements to assure compliance.
Please ask if you are in need of more requirement details
.
Constructed of 304 Stainless Steel
Tubing is at least 18 gauge(1.2mm) with heliarc welding
Frame: 1.25" square tube main support with 1" round tube cross braces
Wall Flanges: Two 3" diameter x 10 gauge plates each with 3 mounting holes
Hinge: 1" round tube with 90° bend welded to 1.25" round 12 gauge rotary hinge
Support: Bent 1" diameter round tubing welded to 12 gauge rotary hinge
Wall Bracket: Constant friction guide bracket allows seat to securely rest in the raised position
White Padded Seat
Rectangular option and Phenolic seat surface options also available Please Call for Information, May effect lead time.
The standard seat includes the wall bracket and supporting yoke
We specialize in Customs, Please call with any requests! Lead time may vary on customs.
You May Also Like