Science Lab Clean Up Sink and Faucet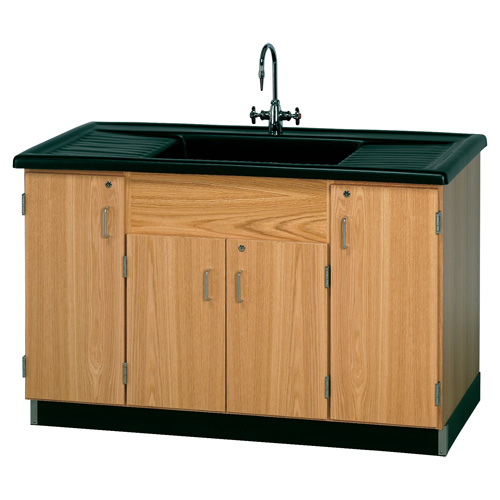 Ships in 7 days or less!
Estimated Ship Date: 12/15
This Science Lab Sink features a long grooved counter that slopes downward into a large central sink for easy cleanup. The countertop and sink are made of Polyolefin, which won't crack when it touches dry ice. In addition, this impact-resistant material won't break your beakers, measuring cups, and other valuable glass lab equipment and supplies. Your sink features locking cabinets for secure storage and quick access to whatever you need for your next science experiment.
Dimensions: 55-1/2"W x 28"D x 36-1/2"H
Sink measures 24-1/2"W x 18-1/2"D x 14"H
One piece top including sink is made of easy-to-clean polyolefin
Polyolefin won't crack when in contact with dry ice, and is impact-resistant to minimize glassware breakage
Hot and cold water mixing faucet
Cabinet base is constructed of hardwood and oak veneer
Unit cabinet includes pulls, locks and rubber base molding
Two adjustable shelves can be found inside the outer cabinets
Weight: 298 lbs.
You May Also Like